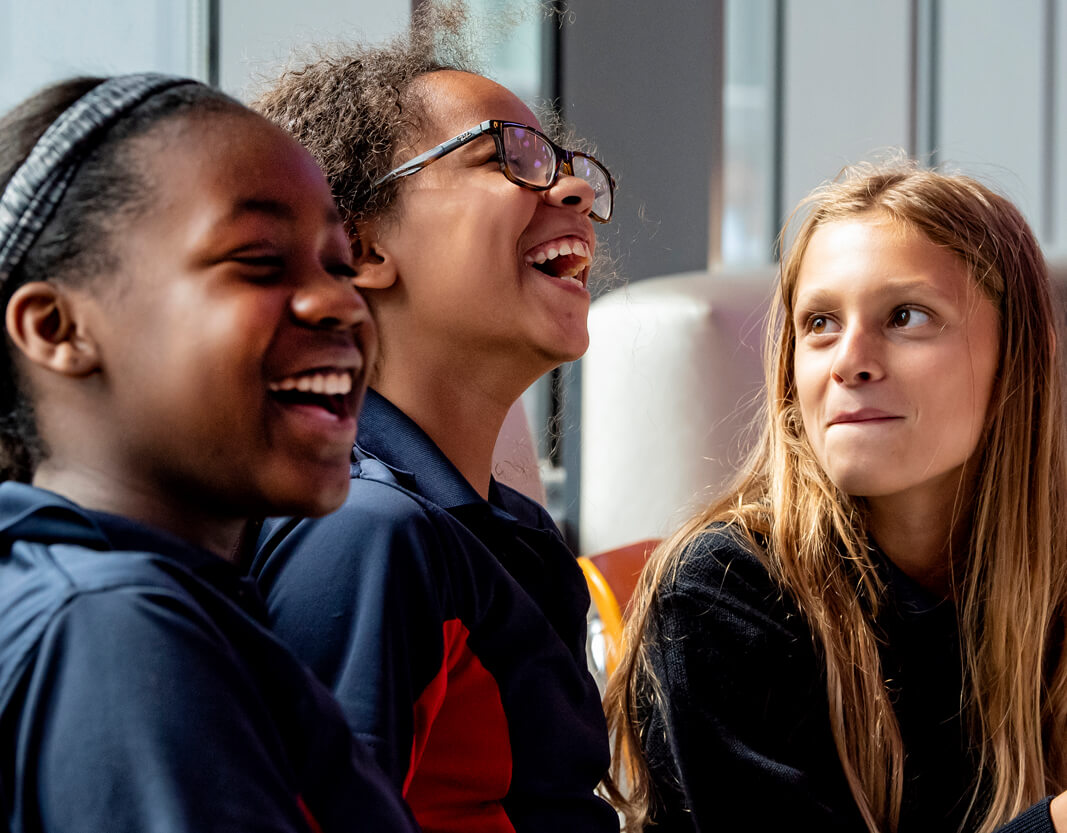 A Chicago School, a Global Mindset
GEMS World Academy Chicago may be one of the newer independent schools in Chicago, but we are no stranger to excellence in education. We are part of GEMS Education, a network of schools that spans four continents and educates more than 250,000 students from more than 170 countries. GEMS graduates are regularly admitted to the world's top colleges and universities. Our School Community
A Diverse Independent School
6
Continents where faculty & staff have studied or taught
40
Countries of origin represented in our school community
400
Students (and growing!) reflective of both Chicago & beyond
36
Zip codes represented in 2019 admissions alone
Key Differences
GEMS World Academy Chicago offers rigorous college preparatory academics within the framework and curriculum of the International Baccalaureate full continuum, which emphasizes personal development and instilling students with a global mindset
Our teachers incorporate the city of Chicago into their lessons, taking the students out on Field Studies, where they actively explore the rich physical and cultural world around them
We offer a choice of a daily world language (French, Mandarin, or Spanish) starting in preschool
We emphasize local and global citizenship and maintain a culture of tolerance, acceptance, and community action
1:1 iPad-to-student ratio in grades K–12 used for note taking, reading, research, and data collection in support of Field Studies and mobile learning
We offer a robust after school and athletics program and are continually expanding our offerings
All of our head teachers hold master's degrees or higher and hail from top institutions both in Chicago and beyond
Entrepreneurs and leaders in their own right, they are involved in local and global causes, and in shaping teaching in their individual disciplines outside of GEMS
Approximately 7:1 student to faculty ratio
A global network of schools, GEMS Education links hundreds of thousands of students across four continents to collaborate and build meaningful cross-cultural connections
GEMS' Chicago campus and classroom technology facilitates connection and collaboration for students of all ages
As students enter middle and high school, they have opportunities for exchange with GEMS students in Singapore, Abu Dhabi, and Dubai and travel both domestically and internationally
Our bright and spacious 322,000+ square foot campus, comprised of two buildings in the heart of Lakeshore East, is surrounded by 30 universities and more than 70 museums
Opening in 2020, the new upper school campus is a networked hub of learning that combines 21st-century innovation with an adherence to the best in traditional education practice
Specialized spaces include: two fully equipped science labs, a makerspace, digital media lab, woodshop, a collegiate-level library/media center, student collaboration spaces, and a 500-seat auditorium/multi-media theater, all enhanced by the unlimited learning opportunities Chicago offers
In the existing lower school building, specialty spaces include an open-topped rooftop playground and recreation area for younger students, a spacious cafeteria, library, and a large, open lobby Outstanding Outcomes
Students from GEMS schools are regularly admitted to the finest colleges and universities around the world, including the University of Oxford, all eight Ivy League schools, MIT, Stanford, U.C. Berkeley, and more. Because of their education, students have the knowledge and tools to create positive change in their communities.