A Family's Vision for the Future of Education
In 1959, KS Varkey and his wife, Mariamma, left India in search of better opportunities for their family. Settling as teachers in Dubai, they quickly discovered the power of education in building intercultural understanding and in creating bright futures for students arriving from all over the world to the burgeoning metropolis. Their local vision soon became a global one: to make a quality education available to everyone. From a school of just three teachers and 27 students emerged GEMS Education, one of the largest education groups in the world, educating over 250,000 students from more than 170 countries across four continents. Under the leadership of Chairman Sunny Varkey, GEMS has become synonymous with forward-thinking and innovative education that prepares today's students to solve next-generation problems. Nearly 60 years later, the Varkeys' original, simple vision of reaching as many students as possible, remains. Through the Varkey Foundation, 100 underprivileged students' lives are impacted for every one student enrolled in a GEMS school via teacher training, advocacy, infrastructure improvements, and more.
GEMS World Academy Chicago welcomed its first cohort of students in 2014, joining a micro network of international schools educating the next generation of change agents who learn locally, but think globally. Our close relationship with campuses in Dubai, Abu Dhabi, and Singapore offers unmatched opportunities for exchange and collaboration with fellow students on projects to inspire new perspectives, challenge convention, and develop the grit to embrace a future of unknowns. Mission
At GEMS World Academy Chicago, our mission is to inspire inquiring, knowledgeable, reflective, and intercultural learners to become morally responsible leaders with the skills and attributes necessary to create a more connected and prosperous world.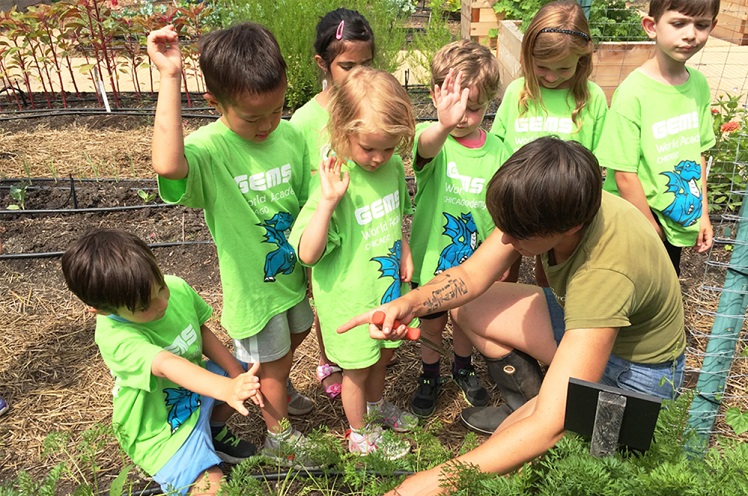 Our Values
The values that guide our students are the same that propel each member of our school community. Values at GEMS World Academy are taken seriously; we celebrate and live through them each day.
Being open to learning is the ultimate key to personal and academic growth. We must have the courage to learn to change the way we do and see things, even if it challenges convention or our belief system.
We take time to celebrate our successes and elevate one another, but we never rest on our laurels. By constantly pursuing our academic and personal best, we know we are making the best of our opportunity to be part of the GEMS community.
We are highly focused on leaving the world and society in a better condition than how we found it. We know that being good global citizens starts with being good local citizens; living, learning, and contributing in Chicago is critical to our worldview.
In an ever-changing world, the only way to progress and effect positive change is to innovate on any scale. We are focused not just on finding solutions, but on asking the right questions to begin with.
GEMS Diversity, Equity and Inclusion Statement:
"At GEMS World Academy Chicago, we intentionally design learning experiences that cultivate open-minded, principled, global citizens. We recognize our responsibility to take risks and to participate in, organize, and promote informed, just action.

We are anti-hate and pledge to co-create a more equitable future. Drawing upon our diverse perspectives, we are connected by our belief in the dignity of all.

We call Chicago home, and are obliged to acknowledge and address injustice around us. We commit to partner and advocate within our community and beyond.

We welcome you to engage with us in meaningful dialogue and empathetic service locally and globally. Join us as we learn, transform, and apply knowledge into action in our dynamic community."
Developing our DEI Statement:
Three years ago, the GEMS community began the process of evaluating our mission statement in relation to diversity, equity, inclusion and belonging. This led us through a thorough and inclusive process of crafting an official diversity, equity and inclusion (DEI) statement that accurately reflects not only our beliefs but who we are, what we do, and how we want to act.
Since opening in 2014, GEMS has focused on increasing awareness and understanding of matters of social justice. The three year process of developing our DEI statement involved feedback from teachers, staff, students, and parents, and ultimately resulted in an authentic description of our community, values, and aspirations.