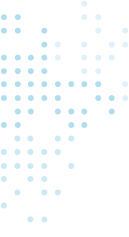 Back to News & Blog
GEMS Chicago, A Rich Environment of an IB Continuum School
February 05, 2020
GEMS Chicago, A Rich Environment of an IB Continuum School
by Tracey Wood, Head of Upper School
In the rich environment of an IB continuum school where students may be deeply engaged in a field study at a local center for innovation, or single-mindedly focused on dissecting worms and crabs, or fully immersed in analyzing the literary devices in a text, it is important to understand how the continuum works across the three programs to shape students over time into the responsible, globally competent, and academically competitive GEMS graduates they will become.

We can describe the progression through an IB continuum school as an intentional, research-based approach to learning and teaching that corresponds to the developmental stages of a child's growth. As the starting point of an IB education, the Primary Years Program capitalizes on the innate sense of curiosity in young children, inspiring further questioning and developing critical, curious thinkers who begin to understand themselves and others. As children move into their early teens, the Middle Years Program further develops Approaches to Learning (ATL) skills, emphasizing self-management (self-advocacy, responsibility, behavior management), organization and collaboration. Learning how to approach a Middle School subject teacher for help through email or consultation hours lays the foundation for later engagement with Upper School teachers. It fosters a student's sense of responsibility and ownership of learning at a time when children are naturally seeking independence. Organizing thinking, materials, and time goes hand-in-hand with developing strong math, speaking, and writing skills, all of which are foundational for the final stage of the IB continuum, the Diploma Program in 11th-12th grades. This rigorous curriculum draws upon and deepens the inquiry, ATL skills, and community involvement inspired by GEMS' field studies, service opportunities, and academic expectations. It responds to the developmental and academic needs of older teens. They encounter the depth of study and types of academic work they will experience in college. The program also requires them to manage a range of academic and extracurricular commitments and to develop leadership and collaboration skills, which they will use in the next stages of learning after graduation from GEMS.

To understand the benefits of graduating from GEMS with an IB diploma, it's important to consider various statistics reflecting college success and college acceptance. According to a 2015 research publication, Diploma Programme students' enrollment and outcomes at US postsecondary institutions 2008–2014, the four-year graduation rate at four-year institutions among all students is 39%. The four-year graduation rate among students with IB diplomas is 84%.

A 2010 study that looked at performance on IB exams and college GPA of over 1500 IB students enrolled in the University of California system found that performance in the Diploma Program was the strongest predictor of college GPA.

Acceptance rates at colleges and universities are also notably different between IB diploma holders and non-IB students. According to a survey conducted by I-graduate International Insight research group, "the average acceptance rate of IB students into university/college is 22% higher than the average acceptance rate of the total population. The acceptance rate of IB students into Ivy League institutions (Princeton, Yale, Brown, Harvard, Columbia, Cornell, Dartmouth, University of Pennsylvania) is between 3% and 13% higher compared to the total population acceptance rate." Colleges and universities have credit and advanced standing policies for IB students as well, some providing 30 hours of credit -- or sophomore standing -- for IB diploma holders.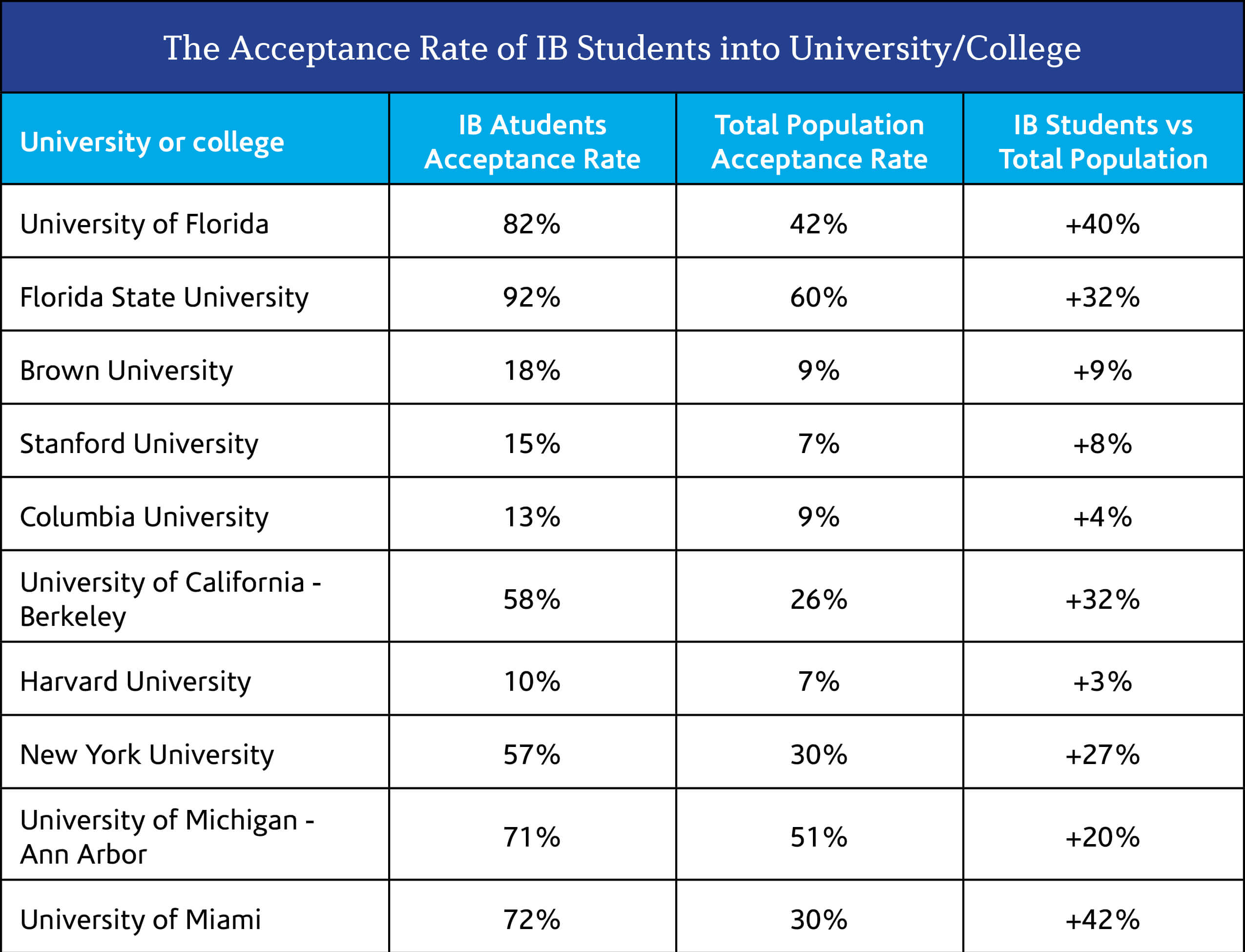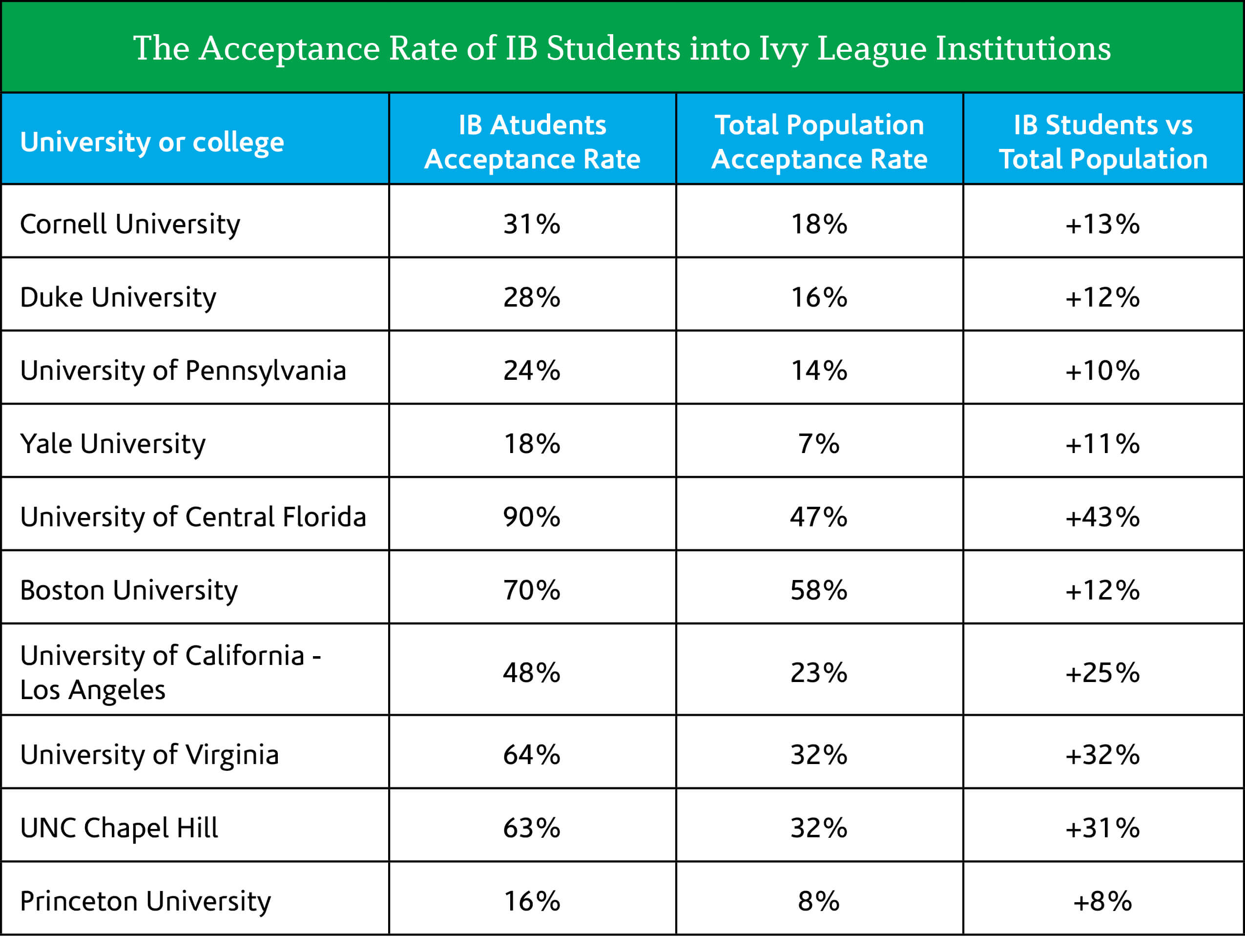 As our first cohort of Upper School students moves into their final years at GEMS, benefitting from the countless opportunities to engage locally and globally and to work closely with their teachers, we begin to see the emerging picture of the GEMS graduate. Curiosity, leadership, engagement in the world and a passion to learn distinguish our students and send them into the next stages of their lives prepared for success.


Sources:
1. Bergeron, L. 2015. Diploma Programme students' enrollment and outcomes at US postsecondary institutions 2008–2014. Bethesda, MD, USA. International Baccalaureate Organization.
2. IBO
3. IBDP Graduate Destinations Survey 2011/12 conducted by i-graduate International Insight, https://www.i-graduate.org