 About the Chicago Curriculum
The early and lower school Chicago Curriculum emphasizes "Parts of a City", which include people, the environment, infrastructure, and spaces. The theme for the middle and upper school Chicago Curriculum is "Purposes and Complexities of a City," or exploring the impact of interactions between groups, the impact of infrastructure and politics on economics, the environment, and our intellectual and cultural history.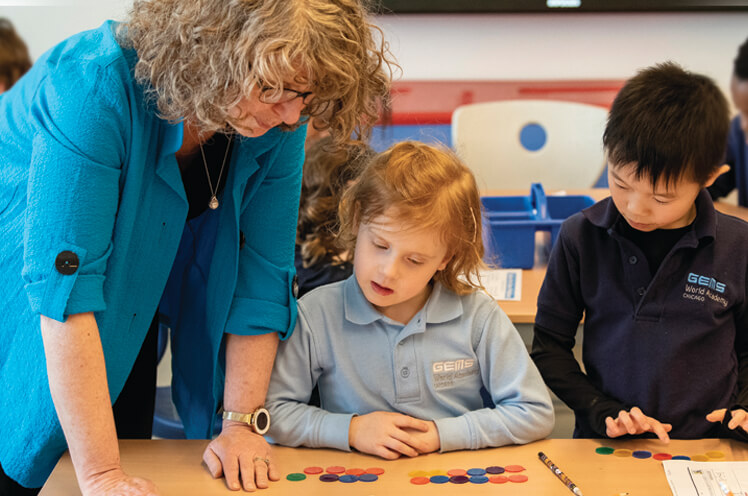 The Chicago Curriculum Outline
The Chicago Curriculum is grounded on a foundation of six core topics that spiral in complexity and depth throughout a student's experience at GEMS World Academy Chicago.
Core Topics
Physical
Land and waterways
Natural resources
Human
Migration
Immigration
Neighborhood formation
Demographic trends, historic and contemporary
Transportation: rail, road, air, and water
Water system
Sewerage system
Power grid
Housing and public housing policy
Public education
Examples of the Chicago Curriculum
The curriculum is comprised of Chicago inspired authors, speakers, and field studies. Some examples include:
A lower school study of our unique relationship with Lake Michigan the Jardine Water Purification Plant and Stickney Reclamation Plant.
A lower school study of human migration patterns and their manifestation in Chicago, understanding the development of neighborhoods and their different cultural institutions.
A middle school study of gerrymandering, data collection, and neighborhood identity with a focus on Chicago's West Side in the 1960s.
An upper school collaboration with students of OLT High School and Latinos Progresando on the Youth Voter Guide Project. Thanks for subscribing to the newsletter!